A Unique Approach to Oregon Wedding Venues
Oregon boasts one of the most beautiful and diverse landscapes in the world. There are countless incredible locations to choose from when scouting for Oregon outdoor wedding venues. Deserts, waterfalls, mountains, lava monuments, beaches, and old growth forests, to name a few! It's basically a wedding photographers paradise!
Which leads to me. Hey I'm Zotti, and I'm a wedding photographer based in Bend, Oregon. I've had the opportunity to capture weddings at some pretty incredible venues. Bend is ideal for me because of its central location within the state. It allows me to make a day trip to many of Oregon's most unique outdoor wedding venues.
When people think of wedding venues in Oregon, they often think of venues designated specifically for weddings. While traditional venues are a great option for many, others may want to take advantage of the dynamic Oregon landscape. This approach can be significantly more affordable and not to mention unique!
I'm a huge fan of letting nature be your wedding venue. Oregon is full of outdoor wedding venues that are widely unused and that are hopelessly romantic! Going this route can save you money, and create a truly unique experience! Rather than spending thousands of dollars on a wedding venue, you can spend a small amount to obtain a permit to get married at your dream location.
Things to Consider
There are a few things to consider when choosing an Oregon outdoor wedding venue. You'll want to think about restrooms, electricity, and seating for guests. Most state parks have restrooms on location, but you can also rent more luxurious portable restroom trailers. Generators can easily be used to bring electricity if needed, and wireless speakers always help! There are also numerous companies that will even rent you chairs, tables, and event tents for your outdoor wedding.
Another small thing to keep in mind, is that you will want to connect with the Oregon Parks and Recreation team. They can tell you if you need a special use permit. Oregon special use permits are used for non-traditional activities that have more than 50 guests, or that use temporary structures such as chairs, tents, or arches. Click HERE for detailed information about special use permits for non-traditional activities in Oregon.
Be sure to call and chat with them prior to sending in your application. Their phone number is 800-551-6949. The application fee is $100 and it is non-refundable. They can give you the information that you need so that you have the best chance of having your application approved. Note: You cannot submit your application more than 9 months in advance of your wedding date, and no later than 30 days prior to your wedding date, unless you are granted an exception.
Fun Fact: You can often also rent out entire campgrounds if you speak with them in advance. This is a great option if you're wanting to spend the entire weekend celebrating with everyone! And you don't want to do all of this calling around yourself, you can hire a wedding coordinator! They will help you lock down the Oregon outdoor wedding venue of your dreams!
Now that we have all that covered, it's time to get to the fun stuff! Let's think about the season, aesthetic, and color palette you want for your wedding. This will help us narrow down your vast amount of Oregon outdoor wedding venue options.
1. The Painted Hills, Oregon
For example, let's say that you want autumn colors but you want the reliability of summer weather. Or you may simply want a uniquely boho wedding venue. No problem! Oregon outdoor wedding venues like the Painted Hills provide a landscape that will give you a unique play on the autumn colors you want. The Painted Hills are rippling with reds, oranges, and beige tones that are too die for! Pair that with the right wedding photographer and florist, and you're looking at being on the next magazine cover!
Things like pampas grass might not be allowed at the Painted Hills because it is known as an invasive species. Pampas grass seeds fall and carry easily and can overtake the landscape. Talk to the State Park and Recreation folks and your florist about this in advance.
2. Dee-Wright Observatory, Oregon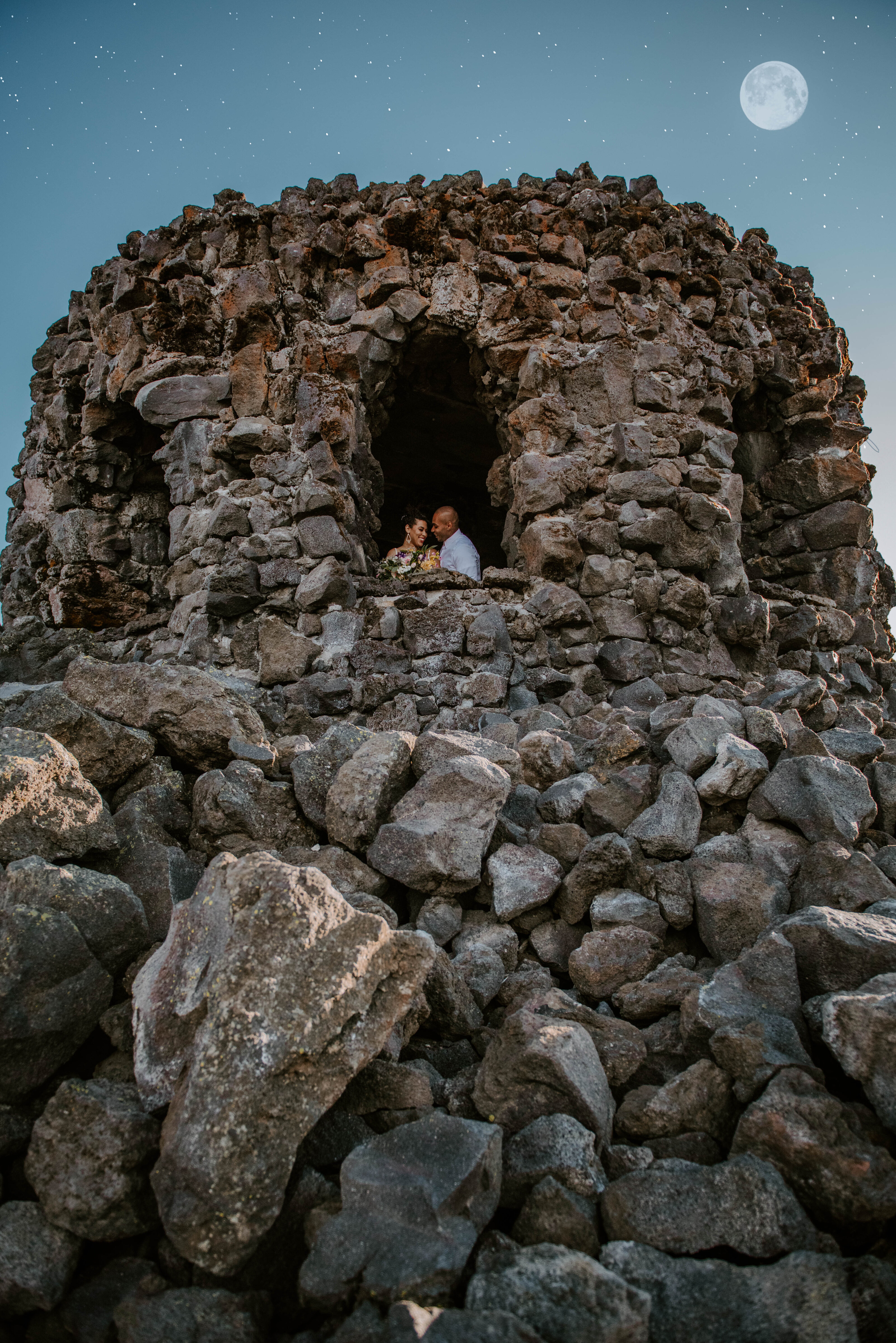 How about a vintage venue with a bit of edge and some of the best views in the state? The Dee-Wright observatory was built in 1936 and is located just outside of Sisters, Oregon on the Mckenzie Pass Scenic Byway. It is a stunning and truly unique outdoor venue in Oregon. It is standing tall, resembling a castle made entirely of lava rock. Dee-Wright is bounding with views of many mountain peaks including, Mount Jefferson, North Sister, Middle Sister, and Mount Washington. Stay at the location past dark to drink up the incredible starry sky!
The Mckenzie Pass, where Dee-Wright is located, is only open from mid-June through mid-November due to snowfall. Also, be sure to check in advance about the specs for how many people can gather at this location. This venue would be best for smaller gatherings due to the limited parking.
3. Otter Point, Gold Beach, Oregon
Another amazing outdoor wedding venue is Otter Point in Gold Beach, Oregon. The cliffs overlook the rough coast from above and the view is breathtaking. There are several open areas where you can tie the knot, and there is a lot of diversity in the colors of the landscape. There is green shrubbery, grassy flats, and rich orange clay at the point. As a wedding photographer, trust me when I say that the landscapes with the variety make for some of the best photos!
One thing to note for this venue is that the cliffs at Otter Point may not be safe for children and the clay can be a bit slick if it rains. Be sure you think about your guest list beforehand and ensure that it will be safe for everyone involved!
4. Smith Rock State Park, Oregon
Another one of my favorite Oregon outdoor wedding venues is Smith Rock State Park. The creamy warm tones paired with the tall and proud rocks is incredible. And don't even get me started on the golden hour at Smith Rock! Located right in the heart of Central Oregon, it's a great choice if you have family traveling from other areas of the state. This majestic landscape even has a wedding area already installed!
The pre-installed wedding area here is a touch small. I recommend talking to the Oregon State Park and Recreation prior to your wedding if you're planning on having more than 30 guests. P.S. The lighting at Smith Rock can be harsh in the middle of the afternoon. Talk with your wedding photographer beforehand so that they can help you plan the ceremony time for the best lighting!
5. Sahalie Falls, Oregon
If it's a "wow factor" you're after, then this is perfect for you! For a jaw dropping Oregon outdoor wedding venue, Sahalie Falls is just the place. The lush green landscape is enchanting and nothing quite says "I love Oregon" like saying your vows with a waterfall backdrop. Not to mention, waterfalls are known for their cleansing properties and ability to evoke fresh beginnings. How romantic!
Sahalie Falls doesn't have much parking, so be sure to plan accordingly. The falls also spray a great deal of water when you get up close to them, so make sure you prepare. Waterproof mascara is always a must when planning an Oregon waterfall wedding! Any fall risk guests can stand up top and watch you from above if they don't want to risk the slippery descent to where the falls are located. Don't worry, they will have a great view!
6. Sparks Lake, Oregon
And last but certainly not least, this final Oregon outdoor wedding venue is very dear to my heart. Sparks Lake is a magical cascade lake. It's hard not to fall in love with its fiery sunsets. I'm a wedding photographer, so I knew my husband and I needed to get married somewhere picture perfect. For this reason, we chose to get married at Sparks Lake on the small area of beach looking out toward the South Sister and Broken Top. The water is shallow and calm, and the bowl of trees surrounding you makes you feel like you're in a private oasis.
There are some tripping hazards on your way down to the beach. Make sure that you plan accordingly for family members that are a fall risk. It's best to get have your wedding in the evening for the great sunsets and parking. Most visitors clear out near sunset.
I have not verified this information with the Oregon State Parks and Recreation department. Please do your own research when choosing your perfect Oregon outdoor wedding venue. Feel free to contact me if I can help in any way!
For more planning, check out this blog post titled Best Wedding Dress Shops in Bend, Oregon.